Palo Alto, CA (NASDAQ: EUPH) (February 26, 2001):  You're a busy A&R executive in New York and your band is recording in Australia. You can't be there but you want an efficient, dependable way to keep track of the project. Couriers ferrying DAT tapes just won't cut it – so what do you do?  Multiply this scenario by the over 10,000 new album releases created every year (with 10 to 12 songs on each release) and the size of the production problem solved by Euphonix new applications:  E-deckä and Listen-In becomes clear. This new software system simplifies and speeds up the process of reviewing everything from the earliest demos to final mixes and the delivery of production parts, saving both time and money.  The system offers a secure, easy-to-use link between the engineer in the studio with artists, producers, managers and record label personnel.
E-deckä enables audio files of mixes (from stereo up to 5.1 Surround mixes) to be accessed and auditioned any where in the world via a secure server and a personal computer. Listen-In enables real-time remote live studio monitoring of sessions also through a PC.
"Now the distance between creative people will cease to be an issue," noted Euphonix CEO Steve Vining.  "From the earliest stages of a project – reviewing publishing demos, scratch arrangement mixes through tracking and the final mixes can be easily accessed and auditioned by anyone in the production team in a completely secure environment."
In the studio, mix files are recorded and encoded and then uploaded to a secure server on the Internet.  Anyone with the appropriate password including A&R staff, producers, engineers, songwriters, managers and artists download and play the mix files. Final mixes can then be moved directly to a record label for archiving and manufacturing.
The application has been optimized to accommodate a broad range of connection speeds. Reviewers can listen to compressed files suitable for dial-up or DSL access, or uncompressed files, suitable for T1 or T3 access. To ensure optimal sound quality at slower connection speeds Euphonix chose Windows Media Audio as the preferred compression format. Windows Media achieves near CD-quality sound with smaller file size than MP3.
"For a professional application like this, audio quality is critical," said Jonathan Usher, group manager for Microsoft Corporations Digital Media Division.  "The state-of-the-art compression from Windows Media means Euphonix can provide the optimal listening experience, whatever the bandwidth."
Better than CD quality playback is accomplished via PCM stereo at rates up to 24-Bit/96kHz and even     24-Bit/96kHz DVD-Audio quality 5.1 surround mixes are available.  Playback of future audio formats will be supported through decoder plug-ins.  E-deckä also controls the Listen-In function, which allows remote monitoring of a live studio session in progress through a password-protected section of the software using Windows Media Server technology.
E-deckä functions in a completely secure environment thanks to the use of Rocket Network technology which provides the infrastructure that enables a worldwide network for audio production and session management.  Users of E-deckä have around the clock access to their creative projects, accessed via Rocket's secure servers.
"E-deckä clearly offers tremendous savings in both time and expense by utilizing Rocket Network.  Our powerful security features insure complete content security and service quality that Euphonix high-end customers are accustomed to," noted Pam Miller, President and CEO of Rocket Network.
"While Euphonix has historically provided leading-edge technology for the recording engineer we are now expanding our focus to solving problems for all the creative people in the entertainment industry.  Artists, producers, and label executives who need to make important production decisions on a daily basis will find the savings in time and expense that E-deck offers priceless," said Scott Silfvast, Chief Technical Officer for Euphonix.
E-deckä / Listen-In
User Benefits:
Saves time and money spent on traveling just to listen to a project.
Simple to set-up and operate software to review and approve audio mix files.
Play all popular audio file formats including Windows Media Audio, Mp3, WAV, AIFF.
Studio version records 2-and 6-channel mixes and encodes files.
Drag and drop files to play and store.
Review 5.1 DVD-A mixes at full studio quality 24-Bit/96kHz.
Easily organizes and previews digital audio assets.
Easily transports master-quality audio mix files securely over the Internet for remote auditioning or manufacturing.
Transfer audio files, text documents, and JPEGS for all production needs.
Rocket Network compatible for robust, secure Internet connection.
Windows 98/2000 compatible.
Listen-In allows you to hear a live studio session in progress without travelling to the studio.
Multiple people can Listen-In simultaneously from different locations.
Listen-In capability uses Windows Media server technology to deliver near CD quality audio broadcast from the studio.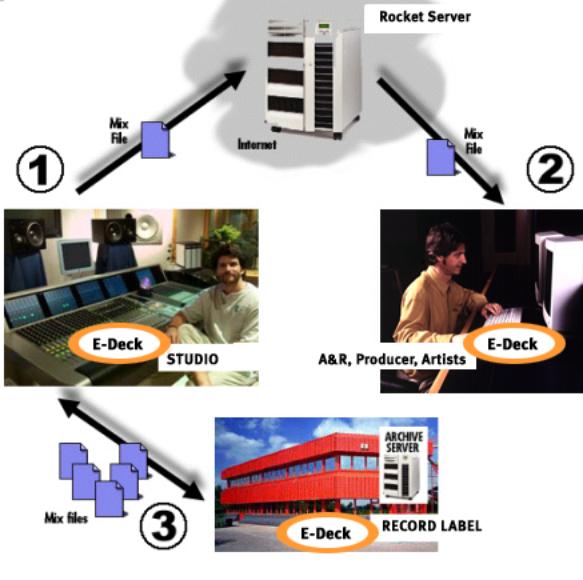 1) In the studio, mix files are recorded and encoded, then uploaded to a secure server on the Internet with E-deck Studio.
2) A&R, producers, managers  and artists download and play the mix files with E-deck Pro on a conventional PC.
3) Mixes are moved directly to a record label or manufacturing facility for archive and production