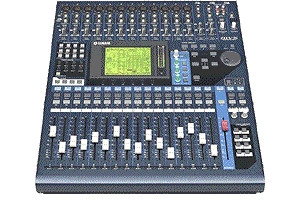 Yamaha's digital mixing consoles have won widespread acceptance throughout the professional audio world. At Winter NAMM, Yamaha showed the new 01V96 mixer, which aims to provide the same kind of performance as its more-expensive ancestors like the DM2000 and 02R96, in a more affordable format suitable for the home or smaller professional production studio.
The suggested retail price of the 01V96 is $2,499 (US).
The new model offers 24 analog and digital channel inputs, expandable on-board to 40 channels, and units can be cascaded for applications that require more. Every input channel provides independent compression and gating/ducking processors for dynamics control, 4-band parametric channel EQs that are fully sweepable from 20 Hz to 20 kHz, with bandwidth variable from 0.1 to 10 and a +/-18dB gain range, and channel delays with a maximum delay of 452 milliseconds (96 kHz mode). The stereo bus, eight mix buses, and eight aux buses each have individual compression and EQ, as well.
24-bit/96-kHz operation is standard in the 01V96. You can also work at 44.1 kHz, 48 kHz and 88.2 kHz, depending on the needs of each individual project.
The 01V96 comes with a comprehensive range of on-board effects, 96-kHz compatible, stereo, with 32-bit internal processing. There is enough processing power to run two effects simultaneously at 88.2/96-kHz, and up to four effects at lower sampling frequencies.
Automation on the new mixer is scene-based. There are 99 scene memory slots for complete console setups that can be memorized and called up via mixer panel controls, or recalled remotely via MIDI program change messages.
Like the DM2000, the 01V96 has been designed to integrate tightly with leading digital audio workstations to create a complete production and mixing environment. Extensive support is provided for Digidesign's Pro Tools® system as well as Steinberg's Nuendo® DAW – full control of mixing and processing parameters, as well as transport/track-arming control and access to editing functions – directly from the 01V96 control surface.
There's also a "General DAW" mode that provides compatibility with other workstations.